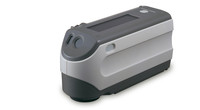 The CM-2500c is a compact portable spectrophotometer with 45°a:0° geometry defined and standardised for colour measurement in several applications such as automotive interior materials, high visibility textiles, Coatings and Road marking.
Furthermore, this geometry is renown of providing colour values having an excellent match with visual perception by fully excluding surface conditions by gloss or texture.
The perfect annular optical system of the CM-2500c (defined as 45°a:0°) achieves unsurpassed accuracy and repeatability, especially on textured or structured surfaces, regardless of measurement direction.
The CM-2500c body is light-weight and compact allowing one hand operation with a minimum of operation keys. The large information display shows measurement data either numerically or graphically.