Spectrophotometer CM-3500d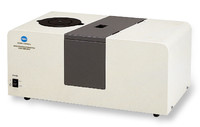 A Multi-Function Top-Port Spectrophotometer suitable for virtually any application
The Konica Minolta CM-3500d Spectrophotometer is a highly accurate d:8° geometry,(di:8° specular component included and de:8° specular component excluded), top-port instrument designed for a broad range of colour measurement applications. Control is performed via computer software SpectraMagic NX to provide simple, efficient colour control from the research laboratory to the factory floor.
The CM-3500d offers both reflectance and transmittance measurements. Changeable measuring aperture mask with 3, 8 and 30 mm diameter and a special mask for a Petri Dish offer maximum flexibility for all kind of samples.
The top-port design allows specimens to be simply placed on top of the unit, making it easy to measure the reflectance of not only solids but also granular, powders, pastes or even opaque liquids. Transparent liquids or solids can be measured in the transmission chamber.