Optional accessories for CM-3700A
Transmittance Zero Calibration Plate CM-A100
The Transmission Zero Calibration Plate CM-A100 is required to block the light path for zero calibration in transmittance measurement mode. The black and mat coating of the plate absorbs also stray light within the transmission chamber of the instrument.
Item Order Code: 1864-712
Transmittance Specimen Holder CM-A96
For perfect and repeatable positioning of transparent plates, films or other transparent samples for transmittance measurements. Holds the Glass Cells CM-A97 (2 mm), CM-A98 (10 mm), CM-A99 (20 mm) and the disposal Plastic Cells CM-A CM-A130 (2 mm), CM-A131 (10 mm) and CM-A132 (20 mm) or the Flow Cell CM-A508 (10 mm)
Item Order Code: 1864-708
Flow Cell CM-A508
For continuous transmittance measurement of transparent liquids. The optical path of the cell is 10 mm and can be used with a pressure up to 2 Bar. The cell fits the Sample Holder CM-A96.
Item Order Code: 9970-237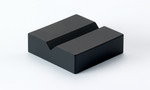 Tube Holder CM-A517
This special holder allows easy positioning and measurement of tubes such as pencils or similar. The dimension of the Tube Holder is 50 x 50 mm and thus suitable for short and long samples. It can be used for samples with a diameter from 8 to 24 mm. To prevent drop down the tube holder is delivered with a self-adhesive plastic ferro plate.
Item Order Code: B027157