Optional accessories for CM-700d / CM-600d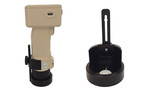 Universal Target Mask for CM-700d Series CM-A523
Small footprint and enhanced standing stability
Target finder without offset
Integrated ring groove for Retaining Ring and Cell Holder to measure powder or liquids with tube cells
Interior tube cell holder for powdery and pasty materials using aperture with glass plate
Triangular groove to reproducibly position long objects with a radius
Alternative positioning fixture
Item Order Code: B027256
Glass protected Target Masks Ø 8 mm CM-A183
Target mask with glass protection plate to measure soft or wet samples. The protection glass plate prevents specimen from entering the instrument. The CM-A183 is also recommended for flattening soft specimen. The diameter of the measuring area is 8 mm and the size of disk is 40 mm in diameter.
Item Order Code: A0E8-706
Replacement Dust Cover CM-A186
Item Order Code: A0E8-709
CM-A96 Transmittance Specimen Holder (for use with CM-A514)
Required to fix opaque samples or the Glass or Disposal cells for measurement of opaque liquids in combination with the Sample Holder CM-A514. The clamp provides a constant pressure to the sample and the moveable side holders keep the cells in correct position.
Item Order Code: 1864-708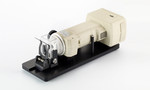 Sample Holder CM-A514
With the Sample Holder CM-A514 the instrument is set in horizontal position. Allows in combination with the Specimen Holder CM-A96 measurements of small samples up to a thickness of 22.5 mm or with the Glass- or Disposal Cells with 10 or 20 mm optical path the measurement of opaque liquids.
Item Order Code: B027152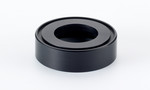 Cell Holder CM-A515
For measurements of powders, paste and grains in combination with the Glass Cell CR-A504. The measuring head is set to up-side down position and the Cell Holder CM-A515 precisely fixes the position of the Glass Cell CR-504. To secure the instrument in a save position against tipping the Vertical Stand USD CM-A516 is recommended.
Item Order Code: B027153
Flow-Cell with 10 mm path CM-A508
Flow cell with 10 mm path for reflectance measurements of water based opaque liquids in combination with Sample Holder CM-A514 and Specimen Holder CM-A96.
Item Order Code: 9970-237
Thermo Printer DPU-S245-01
Compact Thermo Printer with Bluetooth wireless data transfer with the CM-700d and CM-600d
Item Order Code: B027168