Fast
The FD-9 reads 1,500 patches in just 4 minutes and 2,500 patches in just 7 minutes. Within one single scan users obtain data for M0, M1 and M2, conforming to ISO13655:2009 and offering improved certainty of colours and OBA.
Versatile
The FD-9 uses a free-format function enabling it to measure virtually every chart that might be used to calibrate printers and create profiles.

Even quality control wedges, used for conformance testing of proof prints, etc., can be measured with the FD-9 without cutting them from the print.

Users can obtain amazing results and achieve the best possible neutral grey balance and flawless skintones in even non-standard viewing environments. Konica Minolta's Virtual Fluorescent Standard (VFS) allows the creation of precision custom profiles to compensate for the environment where the print will be viewed.
Connected
The FD-9 features both USB and Ethernet connectivity enabling you to easily share one FD-9 between multiple machines.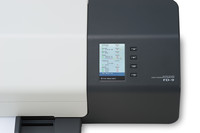 Designed for Usability
The integrated image scanner enables automatic chart alignment and can read QR codes for fully automated sheet and chart identification.
The colour display shows step by step instructions to the operator, improving usability and minimising the opportunity for user error. The results of a quality control evaluation can be viewed directly on the display*1.
Accuracy assured
Like the groundbreaking FD-7, the FD-9 features built-in wavelength calibration and temperature drift compensation, maximising day-to-day accuracy and reliability.

For repair, certification and adjustments to absolute accuracy, Konica Minolta offers worldwide standardized service for all instruments. Users can be confident of Inter Model and Inter Instrument Agreement between the FD-5, FD-7 and FD-9 to offer their customers true local or global consistency.

Users who want to monitor and audit the absolute accuracy of the system on a regular basis will benefit from the optional self-check function of FD-9. Self check uses certified BCRA tiles specifically designed for FD-9 to monitor the accuracy at any time.
Full automation
Measuring a large number of patches with FD-9 is both fast and convenient. Users who need to measure dozens of sheets every day can benefit from using the Automatic sheet feeder, a first for a print colour measurement instrument. This optional accessory enables up to 100 sheets to be pre-loaded and measured with minimal user input. Combined with the QR code reader function, the measurement results can be automatically inked to the printed sheet.
*1 Depends on the software that is used with FD-9.