1. Reliable low-luminance measurement
Konica Minolta's accumulated optical technologies and state-of-the-art signal processing technologies are combined to achieve a 100,000 : 1 contrast measurement*¹ using a spectral-type spectroradiometer.
Low-luminance measurement: From 0.003 cd/m² (Measuring angle: 1°)
Measurement accuracy: ±2% (Luminance)

*1 When the peak luminance is 300 cd/m²
3. Easy operation with a color LCD screen and simple key arrangement
1° is suitable for
Typical targets such as middle- and large-size display units
LCD, PDP, or EL display panels
LCD panels for cellular phones and digital cameras
Radar and other instrument panels used in airplane cockpits
Large outdoor display screens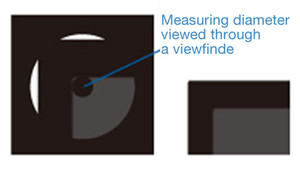 0.2° is suitable for
Small light sources such as an LED
Car audio systems
Instrument panels for automobiles
Lamps, fluorescent tube backlight, and other light sources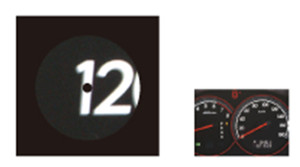 0.1° is suitable for
Extremely small light sources or distant light
PDP or LCD pixels
Cold-cathode tubes
Brake lamps of automobiles
Traffic signals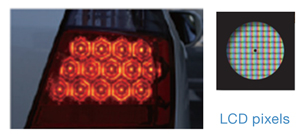 4. Selecting the best-suited measuring angle enables measurements of various objects.
The selectable measuring angle enables a single machine to measure large to small diameters.
Measuring angle: 1°, 0.2°, 0.1°
Minimum measuring area: Ø 0.1 mm (when a close-up lens is attached)
5. Quality control based on the dominant wavelength
"Data Management Software CS-S10w Professional", included as a standard accessory, enables acceptance judgments* based on the dominant wavelength. The CS-2000 is thus optimal for quality control of LEDs, which are hailed as the next generation in lighting, and various other new lighting devices.
* Acceptance judgment based on dominant wavelength: Judges whether the primary wavelength (dominant wavelength) of the respective color is within the standard range in the chromaticity evaluation of LEDs or other illuminating light sources.
6. Accurate measurement of illuminance
Attaching a diffuser adapter for illuminance measurement (optional accessory) enables the CS-2000 to accurately perform spectroscopic measurements of illuminance and chromaticity of irradiated light.
Areas of application
Light sources of all types can be measured under Laboratory conditions with the CS-2000, for example signal, traffic lights, airport lighting, lamps, LEDs, picture tubes, LCDs, PDPs, etc., simply anything that emits light. With the ever-growing demand for diversified media, stimulated by the growth of information-technology business and full-scale service of digital broadcasting, research and development has accelerated for various display devices centring on plasma displays and LCDs. Innovations in LED technology have led to remarkable breakthroughs in the development of LED products including traffic lights, backlights for reflective LCDs, and large outdoor display screens.