DRUPA 16: Visit Hall 7a Stand F20, demonstrating the revolutionary FD-9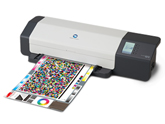 Fast, Accurate, Efficient and Automated

Visit the Konica Minolta Sensing stand at Drupa for a demonstration of the FD-9 AutoScan Spectrophotometer.
The latest innovation in print colour management, the FD-9 AutoScan Spectrophotometer, an automated solution for profiling one or many output devices.
Automate scanning of up to 100 sheets* at a speed of 1500 patches in 4 minutes
Network connectivity for multiple output devices
Simultaneous M0, M1 and M2 data
Scan full size control charts or automatically detect control elements on prints
QR code reader automates identification and assignment of calibration or control
*100 sheet scan requires Auto Sheet Feeder accessory

FD-9 Extended Demonstration

Our UK partner MyPressXpert will be on stand presenting extended demonstrations, discussing real world experiences and answering any questions on the 31st May, 1st,2nd,6th,7th & 9th June with a scheduled presentation between 10 and 11 AM on each of these days. If you would like to arrange a specific demo with applied test files please email ncoady(at)mypressxpert.com or call +44 7740 940459 to arrange a time.

Also on the stand:

ColorCare Server: The ultimate solution for color management in a digital print production environment.
Colourscout A+: The ColourscoutA+ can use a regular spectrophotometer to create profiles for non-standard materials such as foils & mesh.
Colibri: Learn how the Colibri CCM system is used by brands to achieve consistent colour to printed goods and physical product.