Spectrophotometer CM-3600d / CM-3610d
[Translate to EU - Dutch:] Built for Precision, priced for Economy
With their innovative technology these high precision instruments set new standards in price performance ratio with highest levels of flexibility and user friendliness.
The introduction of this innovative instrument has drastically changed the standard for bench-top spectrophotometers throughout industry. Unlike other "lower cost model" instruments available in the market, the CM-3600d can meet true "high-end" class standards at an affordable price. This is possible only through utilising Konica Minoltas innovative and patented optoelectronics such as numerical gloss control, numerical UV-control and other "world first" technologies. The use of this technology allows much lower production costs by drastically reducing the number of mechanical parts when compared to traditional instruments, whilst maintaining the highest levels in accuracy and precision, previously only available in much higher priced instruments. This has made the CM-3600 series the "global reference instrument" in leading companies around the world.
Enhanced Performance with patented "Konica Minolta Innovative Optical System" Technology includes many "world first" features.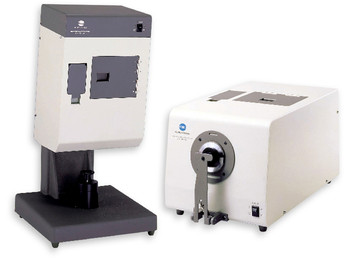 Performances
Simultaneous measurement of specular included and excluded with "Numerical Gloss Control" without mechanical moving parts
Instantaneous and trouble free UV calibration with "Numerical UV-Control" without mechanical moving parts
Simultaneous data for UV-excluded, UV-included and UV-adjusted
Highest levels of Inter-Instrument agreement as standard
Versatility
Full wavelength range from 360-740 nm with 10 nm pitch
Large 6" sphere (152 mm); d:8° geometry in perfect accordance to CIE recommendations
Reflectance, transmittance and diffuse transmission measurement modes
Changeable apertures with Ø 4, 8 and 25.4 mm as well as motorised zoom optic for adjustment of measuring spot
Viewfinder for easy sample observation
Available in horizontal (CM-3600d) and vertical (CM-3610d) design
Compact and lightweight (CM-3600d:12 kg)
Successor model CM-3600A
Successor model CM-3610A