Spectrophotometer CM-3700d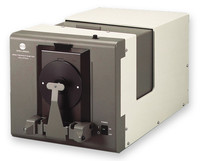 State of the Art Spectrophotometer for maximum Performance
"State of the Art" Reference Spectrophotometer for highest levels in accuracy and reliability in a colour management network system.
The CM-3700d, once again proves Konica Minolta's leadership in optical technology with a true "State of the Art" instrument. In every detail, the CM-3700d has been designed for maximum performance in precise colour control. The large sphere, the aperture masks and the complete optical system are manufactured without compromise, and exceed the requirements of international standards such as CIE, ISO, ASTM, DIN or JIS.
The two flat holographic gratings with silicon photodiode arrays, one each for the sample and feedback channel, together with the high power xenon flash ensures highest absolute accuracy and repeatability, especially on very dark shades.
The superiority of the CM-3700d has been recognised by top ranking institutes and industry leaders. Another example of Konica Minolta's high-end manufacturing technology is the superior level of inter-instrument agreement "straight from the line the production line".