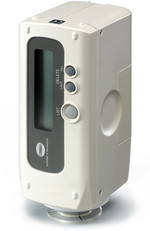 Your personal electronic colour fan!
The Konica Minolta CECF-9 is an "electronic colour fan", to identify and/or search the closest colour from up to 5000 stored colour shades of any colour fan such as RAL etc. It is therefore an ideal instrument for "Point of Sale (POS) application such as Paint shops or Do-it-your-self stores.
Unlike other products of this kind, the CECF-9 uses a sphere geometry, 8 mm aperture and tungsten lamp illumination which accurately measures small, structured and inhomogeneous samples of any material with much higher reliability and repeatability.