Incident Color Meter CL-200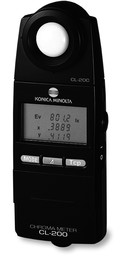 Perfect solution for colour, illuminance and colour temperature
Handheld and lightweight instrument for color, illuminance and color temperature measurements.
The portable Konica Minolta color meters are ideally suited when not only the brightness but also the color of light is to be measured. The wide selection offers the appropriate instrument for every application, from the simple tristimulus unit up to a spectroradiometer with spectral lenses.
Areas of application
Practically anything that illuminates can be measured with Konica Minolta's incident color meters. The possible uses range from research and development to production.
The CL-200 is a lux meter with a color function for workplace and street illumination, the production of lamps, or the measurement of very large surfaces and projectors (ANSI lumens) by taking advantage of the serial connection of several receptor heads.
The CS-100 Spot Incident Color Meter can measure all types of light sources including signal and traffic lights, airport runway lighting, lamps, LED's, etc. The CS-100 is highly accurate, completely portable and has a fast measurement time. The CS-2000 Spectroradiometer gives the measurement of spectral power distribution, luminance, chromaticity and correlated color temperature of light sources, display devices and the non-contact measurement of reflective subjects.
Handheld and lightweight instrument for color, illuminance and color temperature measurements
The CL-200 is an Incident Colour Meter designed to measure and display the tristimulus values, chromaticity, colour difference, correlated colour temperature and illuminance of light sources. Applications include research and development and colour inspection of light sources whether for manufacture or end use, setting up and adjustment of projectors and other display devices and environmental and psychological experimentation and testing. The CL-200 is a replacement for two instruments - the CL-100 and XY-1- but it also includes many new features. Automatic zero adjustment means the instrument is ready to measure immediately after turning it on. Sometimes for reasons of safety or convenience it is necessary to measure remotely. The CL-200 receptor can be separated and connected up to 100 m away from the measuring body by LAN cable. An RS-232 interface is built in to allow connection to PC .Connection to a thermal printer is also an option should a printout of measured data be required for validation. Like the T-10 range of Konica Minolta illuminance meters, the CL-200 allows multi-point measurement - from 2 to 30 additional receptors can be connected to one main body. This is particularly useful should the operator wish to measure light across a large area, like the whole surface of a projector screen, or light falling across a room or open field.