Contributing to the enhancement of the quality and precision indispensable to various industries by providing high-precision measuring instruments
Derived from our state-of-the-art optical and image processing technologies, Konica Minolta's measuring instruments help improve quality control and precision in a wide variety of industries. Our display color analyzers for measuring the color and luminance of displays, and spectrophotometers, colorimeters and other color measuring instruments used for essential color management in many manufacturing plants play important roles in supporting various manufacturing industries.
In the medical field, our pulse oximeter (for measurement of oxygen saturation) is well regarded.
We are currently integrating development bases and establishing overseas sales companies for reinforcement of business infrastructure. By continuing to provide solutions that respond to changing needs based on our core "technology of light", we will meet the challenges of the new era.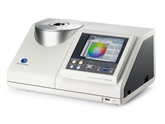 Active in the industrial field where precise color management is indispensable
Colour management is essential in many areas of manufacturing, including automotive, paint, plastic, textiles, construction materials and food, and requires the ability to measure subtle color differences that human eyes cannot distinguish accurately. Konica Minolta's spectrophotometers and colorimeters are widely utilized at quality control, R&D, distribution and sales scenes in such sectors.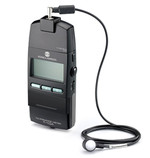 Our wide lineup of proven products makes us one of the market's leading performers
Display color analyzers help test display performance and quality in examination and adjustment of white balance and contrast, by precisely measuring chroma, brightness and balance. As the market for widescreen TVs (plasma, LCD) and LED products (mobile phones, digital cameras car navigation equipment) expands, demand for display color analyzers is increasing. Konica Minolta's advanced display analyzers enjoy a large share of this growing market. We also offer a wide range of other products to meet the needs of the display market with various mixed formats, including a spectroradiometer for brightness and chroma measurement and 2D color analyzer to measure the distribution of brightness and chroma.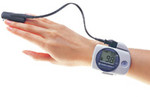 Medical measurement
Minimally invasive medical measuring instruments
We provide the medical field with sophisticated measuring instruments that impose little or no strain on patients. These include a pulse oximeter, which can detect oxygen saturation in the blood simply by projecting light on the human body, and a compact jaundice meter that can test newborn babies for jaundice without taking blood samples.