Instrumental analysis of surfaces appearance, roughness and waviness in the automotive painting process
The ultimate quality control instrument that handles: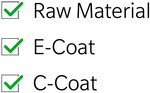 This innovative device is the result of years of development collaboration between Rhopoint, Volkswagen AG and AUDI AG. Not only does it model human perception of final surface appearance quality, but at the same time can be used to judge topographic information from surfaces ranging from totally matt to high gloss.
Unlike systems that are currently in use, the Rhopoint TAMS™ is able to capture surface data for mid gloss and high gloss surfaces and therefore all surfaces throughout the automotive coating manufacturing process - steel and aluminum, E-Coat as well as filler, base coat and topcoat.