Display Color Analyzer CA-210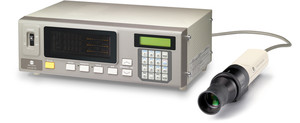 Reference instrument for whiteness & color control on LCD & TFT Displays
The preceding model, CA-110 LCD Colour Analyzer, was introduced in 1991, when displays using LCD technology were just becoming available. Since then, LCD and TFT Displays have become standard technology for Computer Displays as well as many other industrial applications thus replacing CRT technology.
With the new DISPLAY COLOR ANALYZER CA-210, Konica Minolta presents a new reference instrument with highly improved functions and accuracy which confirms its leadership in display measurement technology, while maintaining the ease of use and functionality of the previous model.
The measurement speed has been improved and the measuring range has been expanded for the low luminance range. In addition, a new optical geometry, which reduces the influence of angular dependency of the LCD, has been applied, so the CA-210 conforms to IEC norm by using measuring angle of +/- 2.5 degree. Flicker measurement has been built into the same instrument, enabling processing of multiple tasks simultaneously.