Luminance & Colour Meter CS-100A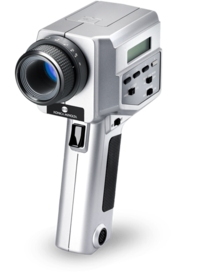 Spot measurement of color and luminance in a handheld portable instrument
The CS-100A is a portable, non-contact digital tristimulus colorimeter featuring a spot, SLR (single-lens reflex) design for remote measurement of luminance and chromaticity.
The Konica Minolta color meters are in their element when not only the brightness but also the color of light is to be measured. The wide selection offers the appropriate instrument for every application, from the simple tristimulus unit up to a Spectroradiometer with spectral lenses.
The tristimulus colorimeter CS-100A for light sources and irradiated objects, allows luminance and chromaticity to be remotely measured with a 1° acceptance angle.
Principal Applications
Chromaticity and luminance measurements of LEDs and other small light sources.
Chromaticity and luminance measurements of tungsten and fluorescent lamps.
Surface color measurements of freshly painted walls and other surfaces that cannot be touched.
Surface color measurements of complex shapes and items that cannot be touched for reasons of hygiene.
Chromaticity and luminance measurements of traffic signals.
Chromaticity and luminance measurements of color TV sets.
Luminance measurements of monochrome TV sets.
Chromaticity and luminance measurements of video projectors