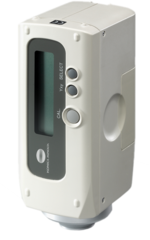 The Color Reader CR-14 is an affordable handheld colorimeter for quick and easy colour control on almost any samples and materials. Just measure the target followed by the sample to compare to see the colour difference in objective CIELAB colour values displayed on the LCD screen.
Despite the simple operation, the CR-14 is a true colorimeter in full compliance with CIE and DIN 5033 norms as one can expect from Konica Minolta.
Small colour variations of white are especially obvious but difficult to quantify objectively. The CR-14 allows you to control the shade of white, near white and yellowish products such as foods and raw materials easily. It uses the internationally standardised and well known Whiteness and Yellowness Indices from CIE, ASTM and Hunter. Alternatively, values can also be shown as Y x y (CIE31) colour coordinates.
The CR-14 can handle any products in solid, pasty or even powder form and thus is very flexible. In order to prevent it from dusty environment, the measuring aperture is covered by an optical glass - alternatively you can also use the optional vinyl protection cover. Like all Color Readers, the CR-14 is very simple to use, compact, light-weight and battery-operated.
The 8mm measuring area and the sphere geometry (8°:di) suits almost any samples size or surface. The illumination by tungsten lamp, according to CIE standard illuminate D65 and 10° observer assure long life. To print out measurement data, the CR-14 can be connected to an external printer.
Successor model CR-20 Plus